GENE AUTRY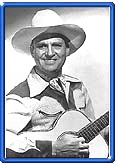 Gene Autry, the man, was an astounding Hollywood success story in his own right. Like many Hollywood success stories, he was discovered by accident. He was working in a Kansas telegraph office, when none other than Will Rogers overheard him singing, and suggested that Gene try his luck in show biz. From 1937 to 1942, Autry placed first among Western movie stars, making hundreds of carefree shoot-em-ups. He had his footprints and six-guns immortalized in the cement at Grauman's Chinese Theatre, and he has more "stars" on the Hollywood Walk of Fame than any other performer. He's also a noted songwriter, and his recording of "Rudolph the Red-Nosed Reindeer" is an all-time Christmas classic. He wrote "Here Comes Santa Claus" after riding in the annual Santa Claus Lane Parade (now called The Hollywood Christmas Parade).

But when his acting and singing career came to an end, Gene Autry was just getting started. He invested his money well, and was the richest men in California, with an estimated worth of over $100 million. He formed Golden West Broadcasting, and owned the KTLA-TV studios (Channel 5) and KMPC radio for many years, as well as the California Angels baseball team.
| | | |
| --- | --- | --- |
| | | |
The Gene Autry Western Heritage Museum in Los Angeles is devoted to preserving and interpreting the rich history and traditions of the American West. With one of the most comprehensive collections of western history and art, its seven permanent galleries and special exhibitions offer material gathered from the many cultures and events that have shaped the legacy of this vast region. Gene was surprisingly modest, given the circumstances; only a tiny portion of the museum was dedicated to his own career.

'Singing Cowboy' Gene Autry dead at 91
(CNN) -- Just two days after his 91st birthday, singer and actor Gene Autry has died. He passed away at his Southern California home, a spokeswoman said.
Born September 29, 1907, on a ranch in Tioga, Texas, Autry was working as a railroad telegrapher when Will Rogers heard him sing, and advised him to try show business.
It was good advice. Autry parlayed a $5 mail order guitar into a career as Hollywood's first singing cowboy, appearing on radio, television and the movie screen. And his talent for performing made him his fortune. At his death he had acquired vast real estate holdings, several broadcast stations, and the American League Anaheim Angels baseball team.
And it all began with a song.
He wore the white hat
In the early days of Western serials, when the good guys wore white hats and the bad guys wore black, Gene Autry was always the hero, with his horse, Champion, and a song that needed to be sung.
He first sang on radio in 1928, and then went on to films, and the lead role in television's "The Gene Autry Show" from 1950 to 1956. He made 95 movies in all, and is still the only Western star on the list of top 10 box office moneymakers.
Autry released 635 records during his career. He not only co-wrote his trademark tune, "Back in the Saddle Again," but garnered gold records for such non-standard favorites as "Rudolph the Red-Nosed Reindeer," "Here Comes Santa Claus," "Peter Cottontail" and "You Are My Sunshine."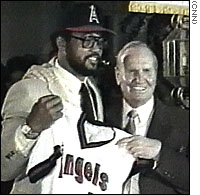 Autry with Reggie Jackson, a player for the baseball team he owned
Successful businessman
Autry hung up his performing spurs in 1956, but continued to own four radio stations, the Gene Autry Hotel in Palm Springs, and several other properties. In 1982, he sold Los Angeles television station KTLA for $245 million.
He ranked for many years on the Forbes magazine list of the 400 richest Americans, before he fell in 1995 to the magazine's "near miss" category with an estimated net worth of $320 million.
He had other famous pastimes, baseball among them. He became the majority owner of the Angels in 1960. When he became the first country musician to get a star on the Hollywood Walk of Fame, he spoke of his favorite team.
"There's only one day that will be bigger than this one for me, and that's when we win the World Series."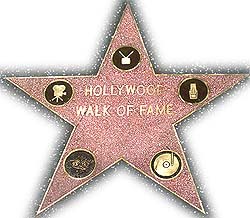 ABOUT GENE AUTRY'S STAR ON THE HOLLYWOOD WALK OF FAME
These sidewalk "stars" honor not only movie actors, but radio, TV, & stage performers, directors, singers, songwriters, and other well-known show-biz personalities.
Right below the name of each celebrity on the five-pointed stars is small, round emblems which illustrates the celebrity's category, with one of five symbols: a motion picture camera (for movie stars & directors), a television set (for those in the television industry), a phonograph record (for singers, songwriters, and recording artists), a radio microphone (for radio luminaries), and the twin theatrical masks of comedy & tragedy (for live stage performers).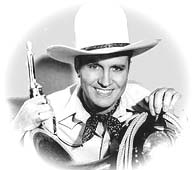 The celebrity with the most "stars" on the Hollywood Walk of Fame is singing-cowboy Gene Autry, who earned five different "stars," one in each of the above categories. His five stars are located at
| | |
| --- | --- |
| Motion Pictures | 6644 Hollywood Blvd. |
| Radio | 6520 Hollywood Blvd. |
| Records | 6384 Hollywood Blvd. |
| Television | 6667 Hollywood Blvd. |
| Lifetime Achievement | 7000 Hollywood Blvd |
Fans, friends recalled his legacy
His team never won a World Series in his lifetime, but he did leave behind another legacy for all the world to see. The Gene Autry Western Heritage Museum, opened in December 1988, honored the kind of cowboys he had played onscreen.
Among the items in the $54 million museum are an 1870s-era steam fire engine from Nevada, guns owned by Annie Oakley and Wyatt Earp, and costumes of TV's Lone Ranger and Tonto.
Friends who came out for the dedication in Los Angeles' Griffith Park reflected on the influence felt from their one-time matinee idol.
"My older brothers used to take me to the shows to see Gene Autry and Roy Rogers, all of that you know, the Western movies," said actor Glen Campbell.
Dale Evans and Roy Rogers recalled Autry as one of their peers. "It was an era," said Evans. "Westerns were it."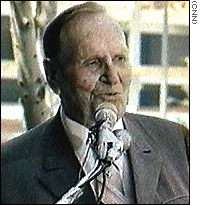 Autry accepting his star on the Hollywood Walk of Fame
"He says he'd like to have made a true Western," recalled Buddy Ebsen. "He said his were kind of fantasies ... so you couldn't really believe them, but you could be entertained by them."
In 1991, a letter written in the '30s came to light that said the performer had no future in Hollywood. The note from producer Al Levoy was found in the Republic Pictures archives.
It said the young Autry needed to improve his acting, that a preliminary acting course was "evidently wasted" and that the actor needed darker makeup to "give him the appearance of virility."
Autry's response: "A lot of that is true. I got better as I went along. I couldn't get any worse."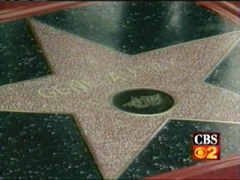 GENE AUTRY LINKS
Gene Autry Museum of Western Heritage
Gene Autry - Virtual Memorial Website
Gene Autry Oklahoma Museum of Local History
Buy Vintage Gene Autry Movie Posters
HISTORY PERSONALITIES PHOTO GALLERY AIRCHECKS JINGLES AUTRY LINKS COMMENTS HOME